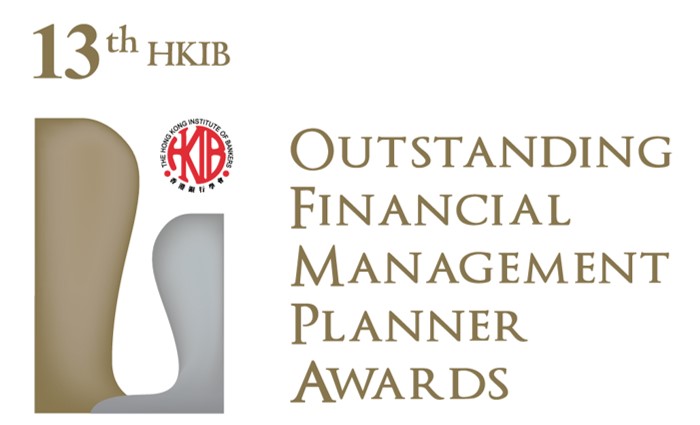 Jointly organised by:

Amidst increasing awareness of the importance of financial planning and wealth management, the HKIB strives to enhance the competency and integrity of financial planners and wealth management practitioners through this highly recognised Awards programme. Launched in 2006, the Awards recognise individuals who excel in the financial planning and wealth management profession.
The 14th HKIB OFMP Awards will be launched in May 2021.
Eligibility & Application
The Awards are open to financial planning practitioners in the banking and financial services sectors in Hong Kong and Macao. Applicants can choose to enter one of the following categories, based on their years of work experience and the nature of their practice: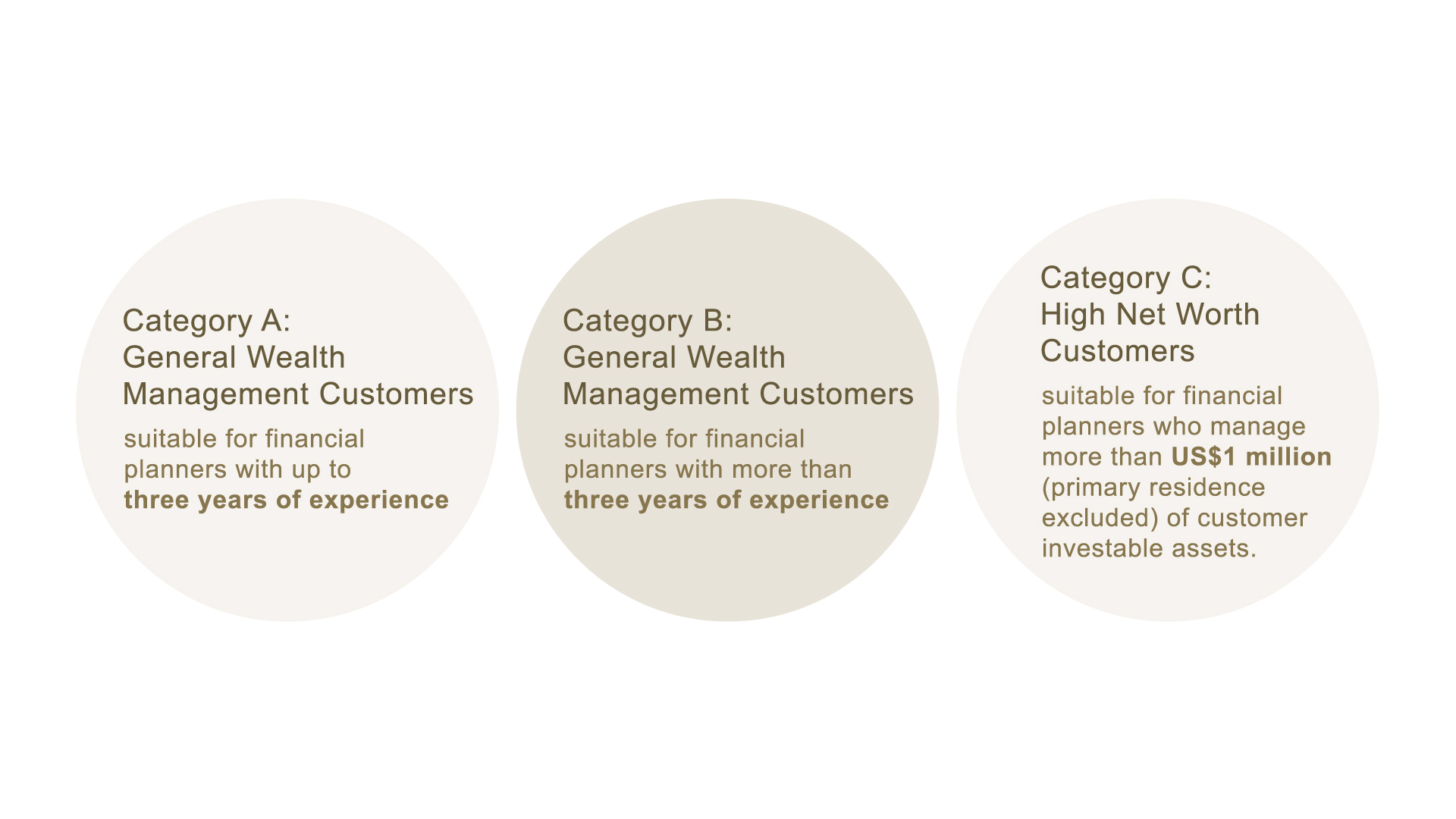 Each applicant is required to submit a written financial plan, either in English or Chinese, and orally present the plan to the judges. The applicant''s current employer must endorse the plan prior to submission. Applicants may write the financial plan in one language and orally present it in another.
Timeline
Date*
Detail
27/06/2019
Launch Reception/Information Session
19/07/2019
Early Bird Offer Close
26/07/2019
Registration Deadline
30/07/2019 AM or
31/07/2019 AM
Training - Module I - Foundation Training (3 hours - 9:30am - 12:30pm)

30/07/2019 PM or
07/08/2019 AM

(31/07/2019 PM
class rescheduled
due to bad weather)

Training - Module II - Best Practice Training (3.5 hours - 2:00pm - 05:30pm)

01/08/2019 AM or
01/08/2019 PM

Training - Module (III) Practical & Soft Skills Training (3.5 hours)

AM: 9:00am - 12:30pm
PM: 2:00pm - 5:30pm

05/09/2019
Written Financial Plan Submissions Deadline
03/10/2019 6:00pm
Round 1 - Results Announcement
30/10/2019 -
31/10/2019
Round 2 - Closed Door Oral Presentation
07/11/2019 6:00pm
Round 2 - Results Announcement
22/11/2019
Final Round - Closed Door Oral Presentation
06/10/2020
Awards Presentation Ceremony
(Remarks: Rescheduled from 21 February 2020)
For enquiries, please contact:
ofmp-awards@hkib.org or (852) 2153 7800
Awards
No. of Awards
Round 1
Certificate of Merit
7
Round 2
Silver and Bronze Awards
Best Presentation Awards
Best Financial Planning Proposal Awards
21
3
3
Final Round
Grand and Gold Awards
Top Nomination Award
9
6

Judging Criteria (for Round 1)
Trust Establishment (10%)

Undergoing a meaningful due diligence process on Knowing Your Customer (KYC) for the purpose of understanding the person
Scrutinise the source of fund and wealth to confirm the trustworthiness of the customer
Conduct an efficient and practical risk profiling that measures the actuality of risk tolerance vs risk perception
Gather and build a mutual sense of investment and decision responsibility

Recognising Financial Needs and Life Goal Analysis (20%)

Understand purpose of life and event planning for different life stages and challenges facing family situations
Collect financial and personal data e.g. income and expenses, assets and liabilities, insurance coverage and retirement benefits
Determine customer''s current wealth stage – creation, accumulation, protection or distribution

Undergoing Financial Assessment (25%)

Conduct reality checks on future goals vs current financial and human capital
Net worth and cashflow analysis, current and future inflows and outflows of capital
Current asset and liabilities vs future ones such as tax and estate liabilities
Evaluate and identify current and future financial gaps
Assess the effectiveness of the customer''s current portfolio and investment allocation

Structuring Financial Plan (35%)

The concurrence of the proposed strategy built on the pillars of investment planning, protection planning, estate and succession planning and philanthropic planning
Recommend the most suitable insurance and protection products to meet various goals for the customers and his/ her family
Recommend the most suitable savings strategy and products to bridge or close the gaps for retirement, healthcare, and other life goals
Recommend the most suitable investment products and asset allocation strategy to reposition existing assets taking into account of risk management, domicile, time-horizon of goals and objectives, and regulatory requirements
Build an effective Investment Policy Statement (IPS) as a guideline for investment decisions and to manage the customer''s expectations over time

Timely implementation and Expectation Management (10%)

Develop a detailed action plan checklist and a detailed review schedule as per the strategy and the purpose of each review and anticipated actions
Review goal status and impact on agreed plan and solutions
Examine the deviation from the IPS and the changes of risk parameter over time
Demonstrate the portfolio review mechanism
Describe a mechanism that cross-checks that customer''s level of satisfaction
Assessment Process
| Stage | Details |
| --- | --- |
| Round 1: Written Financial Plan | Participants submit written financial plan based on hypothetical cases provided |
| Round 2: Closed Door Presentation | Participants are invited to orally present their written financial plans to judges |
| Final Round: Best of the Best | Select Grand/ Gold/ Top Nominations Awards |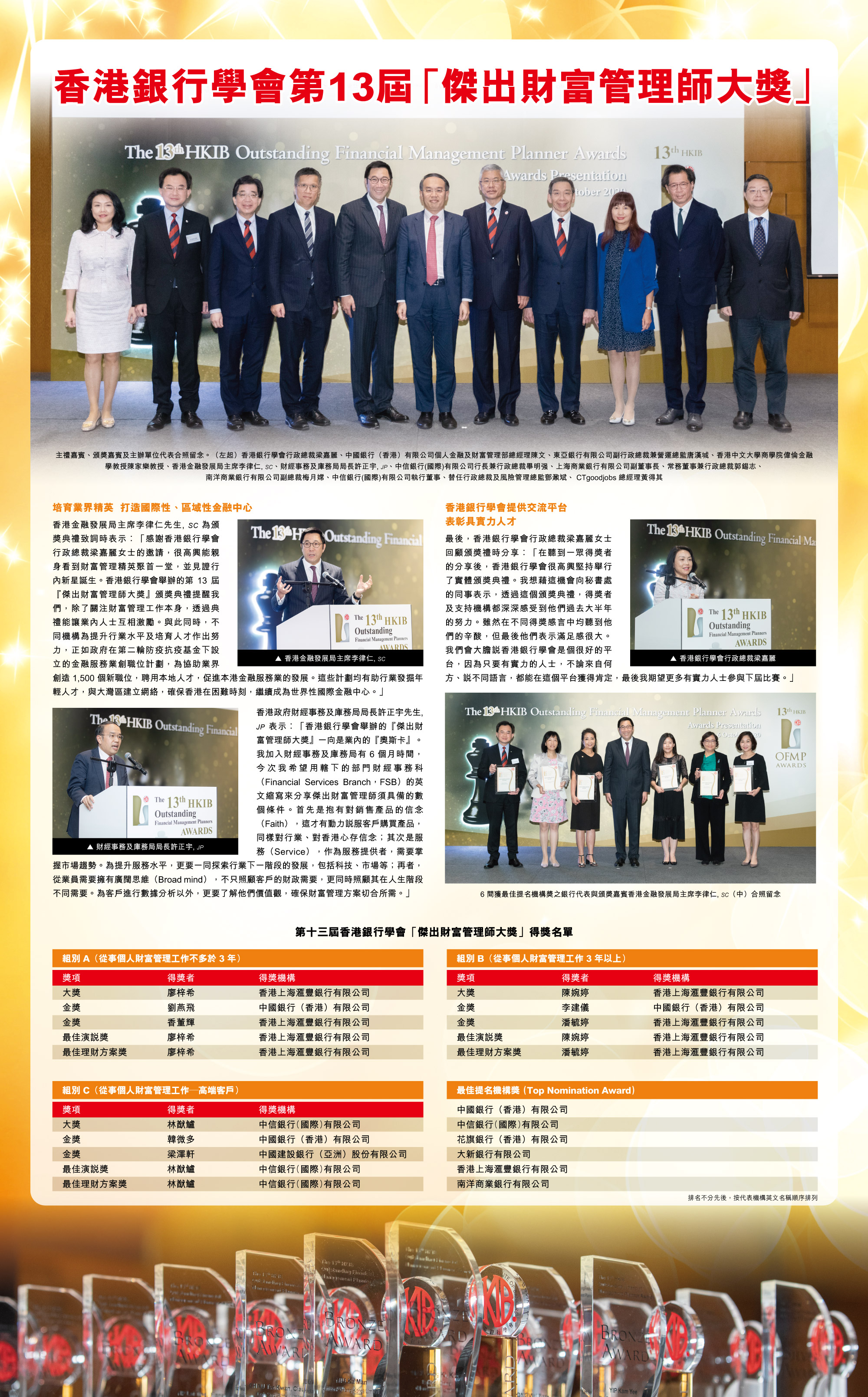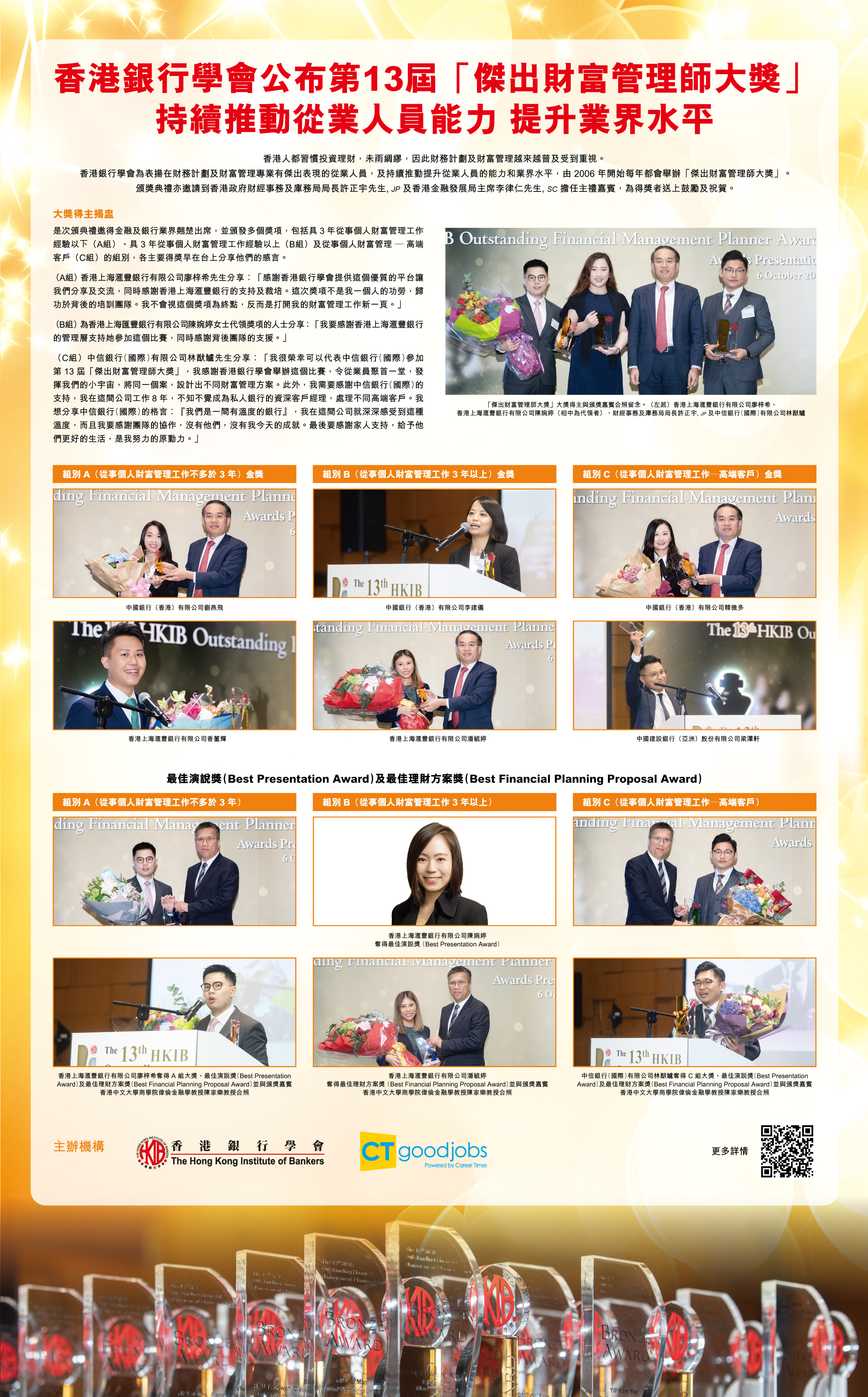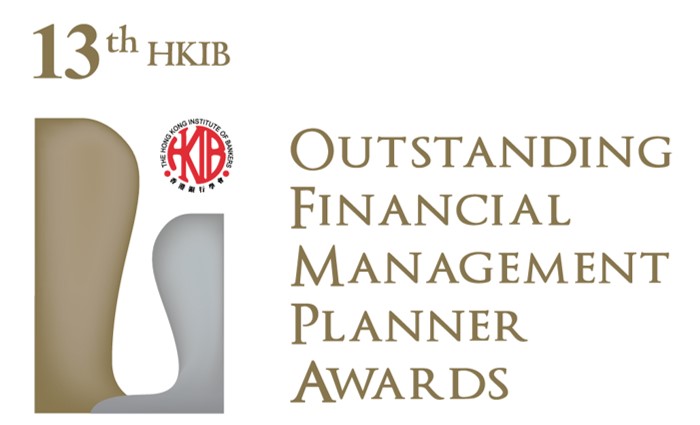 Registration For the 13th HKIB OFMP Awards:
All 3 of the above steps must be completed by registration deadline of 26 Jul 2019 (Friday).

Note:
Both Front and Back side (if applicable) copies of the business card must be submitted, with the file format: BC_[Surname][Given name].pdf (e.g. BC_Chan David.pdf)

The photo should be in JPEG format in business attire, with plain white background and minimum 300 dpi resolution, in the file format: Photo_[Surname][Given name].pdf (e.g. Photo_Chan David.jpg). The photo will be used on HKIB OFMP Awards related publications whenever applicable.

Payment
Crossed cheque made payable to "The Hong Kong Institute of Bankers", and mail or deliver to:
The 13th HKIB OFMP Awards
The Hong Kong Institute of Bankers
3/F, Guangdong Investment Tower
148 Connaught Road Central
Hong Kong

For e-cheque, please state "The 13th HKIB OFMP Awards Registration Fee" under "Remarks" and email to ofmp-awards@hkib.org
Credit Card (VISA / Master Card only)
- Confirmed training schedule will be sent by e-mail by 29 Jul 2019.
- Hypothetical Case for Written Financial Plan will be sent after training on 1 Aug 2019.
For registration enquiries, please contact us at:
ofmp-awards@hkib.org /(852 2153 7088)